What is a boudoir photo shoot? A boudoir photo shoot is one in which you wear lingerie and anything else you feel sexy in and you have your photos taken. You may ask "why on earth would anyone do such a thing?" It's a scary thought for some, but there are many great reasons why you should consider a boudoir shoot.
You'll look phenomenal!
When you get your hair and makeup professionally done for your shoot, you'll transform into the bombshell you didn't know existed! When you combine quality hair and makeup artistry with a professional photographer, you will feel like a supermodel for the day. Many clients even book a night out on the town after their shoot because of how amazing they look and feel. Are you worried about needing to shed a few extra pounds before the shoot? No need to fret when you have a professional posing you. You are perfect the way you are and it is our job as photographers to prove it to you!
The experience is empowering!
You will feel like a model for the day between the professional hair and makeup and the photographer putting you at the center of the spotlight. It's not very often we get to feel this way. Not only will it boost your self-esteem, you will be blown away when you get to see how beautiful you really are. You will leave seeing yourself in a whole new light and may even learn things about yourself you never knew existed within you!
You are worth it!
Don't let yourself or anyone else tell you otherwise. You're a hard worker who has accomplished a lot in life. You deserve to show yourself off. All too often, women don't do things solely for themselves without feelings of guilt. You're always putting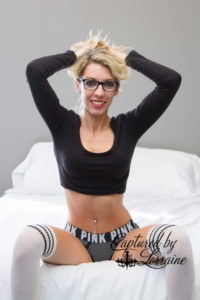 others first, but now it's your time to shine.
The session is such a blast!
Boudoir sessions can be so much fun! The right photographer will help you feel comfortable, sexy, and bring out the fun side in you. It doesn't always have to be 100% serious.
It makes for awesome gifts!
Are you looking for a unique gift for that special someone in your life? What could be better than getting them gorgeous boudoir photos of yourself? Just wait until they open those photos and see you in classy lingerie and poses in full hair and makeup. Their jaws will drop! It's not just a gift for your lover, it's a gift for you too! You will have beautiful photos of yourself to look back on when you need a pick-me-up. It is a great gift for you to pamper yourself. You deserve it!
You get to go shopping!
This is a great opportunity to get out and buy yourself something new and sexy. It's also a great way to have fun!
You can make it a girls day out!
Are you nervous to do the shoot alone? Grab a few girlfriends and do a group session! We offer Boudoir parties where you and your girlfriends will be pampered together and each have your own time in front of the camera. It is a great idea for bachelorette parties. You'll get pampered during the day and can have a night out on the town after the shoot, looking like a bombshell!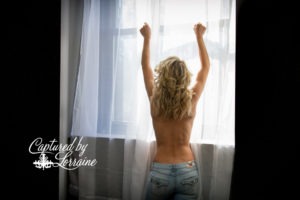 It's a great way to celebrate yourself for a milestone or new transitional period!
Have you received a well-deserved promotion or raise? Is your anniversary right around the corner?  Are you going to start a family soon? These, and many more are all great reasons to document these incredible events in your life. Your body is ever-changing so documenting it to look back at these moments in time is such a great idea!
A boudoir shoot is for EVERY WOMAN no matter her size, shape, age, or status. Your boudoir shoot is all about you! You are free to wear what makes you feel sexy and comfortable.
Click here to contact us with any questions you may have.
Captured by Lorraine-Hampshire Il, 60140 | Phone: 630-677-2291 | Email: capturedbylorraine@gmail.com