Here are some tips on how to prepare for your boudoir shoot.
Things you want to take care of a few days before the shoot.
Spray tanning, more often than not, looks bad in photos. Please do not get a spray tan before your shoot.
Make sure the outfits you choose fit correctly. Take this time to take the tags off and prepare them for the shoot.
Don't forget to take with you a few items from your significant other. Pick one of their favorite jerseys, shirts, or a prop they love and incorporate it into the shoot.
Gather all the accessories and shoes you want to use in the shoot.
Waxing, including your eyebrows, should be done days ahead of time to make sure you don't have redness and bumps.
If you are touching up hair color or trying a new cut make sure you give yourself some time to be certain it is what you want in case you have to change it.
Be conscious of your time in the sun. You don't want to have sunburn or tanning lines for your shoot.
Drinking lots of water and skipping alcohol will make your skin look amazing. Watch your carbs, sugar and salt intake for the week before the shoot.
The day before your shoot

.
You can practice your smile and expressions in the mirror to see what they look like.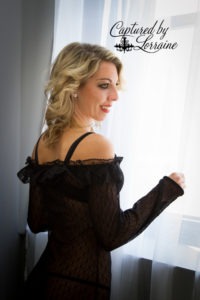 Get a full manicure and pedicure from a salon so your nails will be perfect for the shoot.
Continue to stay hydrated.
Search around the internet and find out what inspires you. Make a Pinterest board of your favorite photos to bring with.
Take a bath, wash your hair, shave and moisturize so your skin is in its best shape.
Double check that you have all your outfits, shoes and accessories ready to go and packed in a way that holds their shape and avoids wrinkles.
Relax and make sure you get plenty of sleep.
The day of your shoot

.
You'll want to make sure you wear loose clothing. Wearing anything tight can leave indentations on your skin, which you don't want for your shoot. This includes bras, underwear, and socks that may be too tight. Come in comfortable clothes.
Make sure you eat! You need to be nourished to have energy for your shoot. Eat something light yet filling.
Please use clear deodorant so no marks end up on your outfits.
Arrive for your hair and make-up appointment with a clean face and clean hair ready to be styled.
Relax, have fun and get ready to rock your shoot! I will walk you through every step and bring out that bombshell in you!
Things NOT to do before your session

.
Drink alcohol. You want to be fully present at the session. Sometimes alcohol will easily give the glossy eyed and red skin look you don't want in your photos.
Spray tan or tan in general. Watch your time in the sun so you don't get sunburned or have tan lines!
Be nervous; you will do a fabulous job!
No crash diets! You need to be properly nourished for your shoot. Crash diets will strip you of your energy and you won't be fully present at your shoot.
Procrastinate. You don't want to wait until the last minute to prepare!
Forget to ask questions. No question is stupid and I love to answer any of your concerns, just send me a message!
Get down on yourself. This is about self-love and empowerment, there is no room for negativity. You are awesome!
If you have any questions feel free to Contact us today!
Prices | About | Video |Portfolio |Contact |Home
Captured by Lorraine-Hampshire Il, 60140 | Phone:630-677-2291 | Email: capturedbylorraine@gmail.com