Boudoir photos can be intimidating to have taken so you want to make sure you pick the best photographer for you.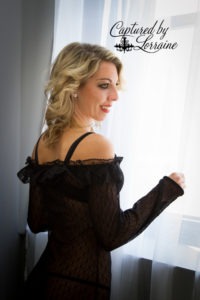 You'll want to make sure you find someone who can bring out the best in you through their photos.
Are we a good fit for you? Follow the steps below to learn how to see if we're the best photographers for you and what you should expect during the process.
Step 1: Do you like our work?
Take a look at our portfolio to see some of our favorite shots from past shoots. Spend some time exploring our site.
I go above and beyond for my clients. During our boudoir session, I walk you through the posing process and am always open to any photo ideas you may have as well! My goal is to create a relaxed, pressure-free environment for you. I want to capture you in your most natural and gorgeous way. I do everything I can to bring out that inner bombshell in you!
If you like what you see and think our style is a good match for you, continue to step 2. If not, that's OK, we wish you the best in your search for a boudoir photographer who's style is more to your liking.
Step 2: Tell us more about yourself.
I am so happy you like our work! I want to hear more about you and what you are looking for in your shoot! Head on over to our contact form and send us a message. I will respond as quickly as I can.
Step 3: Meet with us.
We are located in Hampshire Illinois and would love to meet with you to go over your shoot and answer any questions you may have.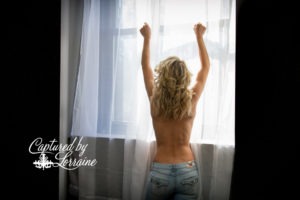 We'll go over outfit selection, hair and make-up expectations, and our shoot schedule.
We can meet either at my studio in Hampshire or out for coffee, your choice.
Step 4: Choose us as your boudoir photographer!
You will not be disappointed! We go above and beyond for our clients and you'll love looking back at your photos for years to come.
Step 5: Fill out the contract and send in the retainer fee.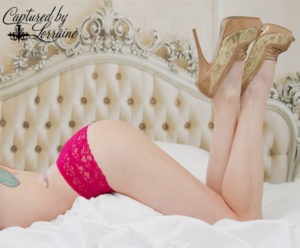 The deposit to book your boudoir shoot is $450 and the full amount is applied to your product purchase. That includes 3 outfit changes and covers our prep time, booking your hair and makeup, and time photographing/editing your photos.
If you have any more questions, feel free to send us a message and we will make sure to answer you as quickly as we can. We love our clients and limit the number we accept each month in order to ensure the absolute best service to each of you.
Prices | About | Video |Portfolio |Contact |Home
Captured by Lorraine-Hampshire Il, 60140 | Phone:630-677-2291 | Email: capturedbylorraine@gmail.com